SHOW ALL CONTENT
Welcome to the Top Picks page of the Octopus team!
The Top Picks are taking a break for a few months
Please note that the Top Picks will be taking a break for a few months, but you can always view the history below. We will come back with version 4.2.
Happy reading and see you soon!
---
September 2016 Top picks
Webinars
The webinars are back!
Starting September 21st, a new webinar will be presented each month. The first one will show how to use the satisfaction survey.
To register or to find out more about all other dates and topics, please visit our Webinars page. (Webinars are only available in French at the moment.) As always, do not hesitate to contact us if you have any suggestions or comments about webinars.
Survey
You care about the service that you offer to your users, but are you aware of their satisfaction level? Did you know that in Octopus, the service satisfaction can be measured at the resolution of a request? Use the Satisfaction survey in Octopus to measure and adjust your service level.
Role Management
Correctly defining roles in Octopus means simplifying their assignation when adding a new employee or when managing new permissions. The Role management article explains how to add a new custom role, how to add one from the existing library or simply how to add custom permissions.
Value lists
Value lists can be created or modified directly from a form instead of having to be created in advance. Furthermore, the same list can be used multiple times, through multiple forms.
Create, modify, merge or import your value lists to optimize their use.
Summer 2016 Top picks
Requests restriction by sub-site
Requests restriction used to be only available with sites. It was possible to limit some sites to specific requests, based on an applied selection of SR and incidents. From now on, the restriction will also be available to sub-sites, which will provide a better control on multiple levels. For example, a main site could have access to specific requests, but a user from one of its sub-site could have a different selection applied, based on the sub-site's available requests.
HTML format for Document tab in CI
Continuing our constant effort to give a better control over our application, we have continued to implement the HTML format in most sections of Octopus, this time through the Document tab in a CI file. More options and improved formatting will provide a better user experience. Take note that once the field has been converted to HTML (option given through the Document tab on first selection), you will not be able to revert back to the old mode, the change being permanent.
New recipient in the notification tasks
The Supervisor of the requester can now be added as a recipient in a notification task. Upon activation, Octopus will use the information in the requester's file to send the email to the right person.
If no supervisors can be found, an error will be recorded in the task that will be visible in the request.
See the Task Management Wiki to find out more about the different task types and how to use them.
June 2016 Top picks
List subscription
Be in control of the important elements for you, by using the opportunity to subscribe to custom lists. This already very useful tool now offers the possibility to receive a personalized notification based on the new items in a list or modifications of items already in it.
To use this option without further delay, see the article on Custom notifications.
Change the satisfaction level of the survey
Everything goes fast, we always have a thousand things to do, but we do not want to forget to say thanks for the service we received through the satisfaction survey. However, responding quickly, sometimes we click on the wrong level. It is now possible to change the level of satisfaction selected by mistake by the user.
For more information on the satisfaction survey, see the article Octopus Satisfaction Survey Overview.
CI | Option to force the serial number to be unique
Requested by many, a new option can be enabled to force the CIs serial numbers to be unique. An error message will be received when creating or modifying a CI with a serial number that already exist, even if it is of a different CI type. This validation will affect the following methods of creating or updating CIs:
Manual creation or update directly in Octopus.
Import with DataImporter.
WMIUpdater.
No validation will be done on CIs that already exist when activating the option, but it will be done when updating.
To activate this option, go to the Tools > Options menu and modify the option called Serial number of a CI must be unique.

May 2016 Top picks
Forms | Can filter CI by type
We can now filter the CI types that will be presented to the user when filling out the form.
This option will help the user in his search, as it will only present CIs that are relevant to his problem or request. For example, you can limit the search to only desktops and laptops for a request concerning an email issue submitted by the user.
To find out more about how to use this new option, see the Form Customization in Octopus Wiki.
Octopus shortcuts
Do you know the Octopus shortcuts? Can you create an incident quickly without using the mouse? Do you know what happens when you do CTRL + R? We invite you to discover them all with the article called Octopus Shortcut Keys.
DataImporter
DataImporter is a key program in Octopus. It allows to import or synchronize data coming from an external OLEDB/ODBC compatible source. It can be used in an initial data import as well as to regularly synchronize data contained in another system.
You may already know it, but we invite you to review it and discover the new features that you may not know.
Latest features with DataImporter:
Users - Import the Shared Account field.
Import Departments.
Import Value lists for the forms.
Import Status transitions for Changes.
DataImporter issues are now recorded in an event.
Consult the Main DataImporter article.
April 2016 Top picks
Importing departments using DataImporter
We have added the possibility of importing departments using DataImporter, to facilitate initial configuration, department updates and synchronizations from sources different than Active Directory.
If you use DataImporter to synchronize users or CIs with sources associating department names to their numbers, you can easily update the departments when their name changes in the source. In addition, you avoid having to merge the new department created when synchronizing with the new name.
You only need to add the department number in the Octopus reference data before changing the name of the department in the source when synchronizing and Octopus will link with the department number and update the department with the new name.
To find out how to import departments, your can refer to the DataImporter - Import departments article.
Effort calendar visible to managers
It is now possible to see the timesheet of another Octopus user in a calendar format.
Use the dropdown list on the top right of the calendar to change user.

NOTE:
To view the timesheet of another person, the Octopus user must have the following permission:
Access the dashboard, statistics and reports.
Display tabs on multiple lines
If you are of those who have too many tabs opened and must navigate from one end of the list to the other using the arrows, this option is for you!
In the Octopus tab of a user file, check the Multi-line Tabs box and the tabs will appear as follows:

March 2016 Top picks
Effort Management
Effort management allows calculating time spent on each request and activity. It can be used either in a manual or automated fashion, and is available in all types of requests (incidents, SR, problems, changes, tasks and events). To find out how to adequately use the efforts, refer to the complete article on Effort Management.
Using conditions in forms and tasks
In our February top picks, we introduced the new Custom forms in Octopus. To keep in the same direction and further exploit the potential of the forms in Octopus, we suggest the Configuration of conditions in forms and tasks that allows among other things to pick the questions that will be presented to the user and which task must be generated, based on specific criteria.
February 2016 Top picks
Deactivate incident creation with MailIntegration
The MailIntegration program allows to receive emails in Octopus and create new incidents, events, or to update an existing request with an activity.
However, if you want to fully utilize your Web forms, you may want to prevent the creation of incidents from emails, but still keep the possibility of updating requests. A new option can prevent incident creation and send a rejection message to the user. This way MailIntegration can be used only to communicate with users.
To find out how to deactivate incident creation, refer to the MailIntegration article for the explanation on the <CreateNewRequests> tag from the Configuration File (XML) section.
Custom forms
Octopus forms are not only for Web forms, since they can be used directly in Octopus to fully utilize its potential. In addition, several modifications have been made to the configuration window that is now joined with the visualization one. This change allows you to see the modifications live. For more information and especially to refine your forms, please refer to the following article: Form Customization in Octopus - AFTER 4.1.130.
Site structure
You can now easily modify your site structure with the drag and drop option to move and reorganize them.
NOTE

:
If you have specific configurations on a primary site (SLA or access to restricted requests) and move it under another primary site, you may alter its configuration or force an SLA recalculation, operation that can take a several minutes.
January 2016 Top picks
Email templates
The email templates are an important communication tool with your users. That is why we offer you ready to use templates. However, we suggest that you review them to better fit your need and properly reflect your business in your email exchanges. In addition, we have improved the Web editing tool for modifying these templates; it is now easier to use and more user friendly.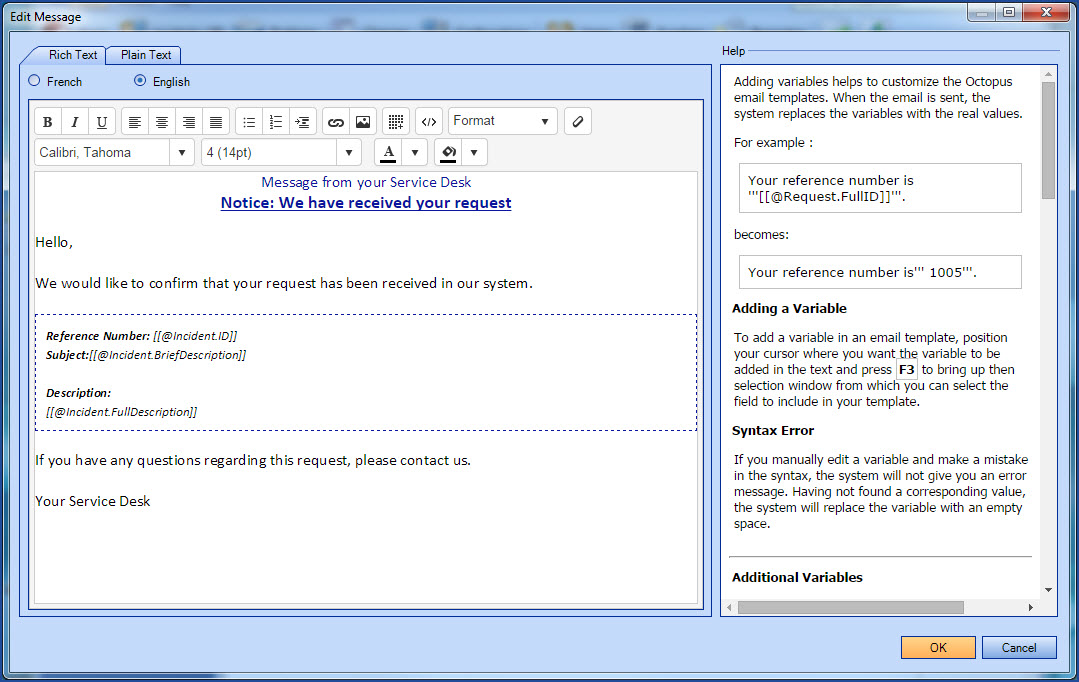 For more information, see the Email Configuration and Improvement article.
Note that the January top picks are related to version 4.1.130 that will be available in the beginning of January.
Activities in Octopus
Activities in Octopus remain the most used element of the application. That is why we want the user experience to be easy and pleasant.
Over one year ago, we have delivered a new activity mode (modern view) and we have plans to retire the old mode (classic view).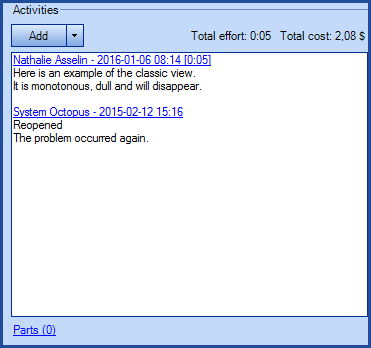 Classic view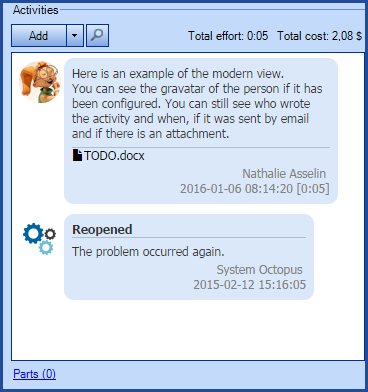 Modern view
The 4.1.130 version has changed the view for all users to the new one. We understand that an adjustment period may be required, and we strongly encourage you to continue to use modern view. If the new mode does not meet your expectations, you can return to classic mode by changing your preferences in your user profile.
However, if you make this choice, it is essential to contact us with your comments. The withdrawal of the classic mode is eminent and before removing it definitively we want to understand your point of view and try to improve the modern view to offer the best experience possible.
For more information, see the Activities in Octopus article.
Reminders
Reminders already exist in Octopus, but they have been improved and now allow, with the proper permissions, to see, modify or delete reminders linked to incidents or SR of other users. To find out how reminders work in general and discovers these new functionalities, see the Reminders Management | Octopus Module article.
December 2015 Top picks
Category deactivation
In order to optimize your use of Octopus and to implement good practices, it may be appropriate to review the categorization of your incidents and appropriately add, edit or disable some of them. You can make the most of your categorization since we allow the deactivation of the ones that seem outdated or unused. All you need to do is uncheck the Active field of the category to deactivate from the Tools > Reference data management menu, and from the Incident node > Category / Subcategory. It goes without saying that you need the rights to administer Octopus to do this.
Confirmation when closing a window
What's more frustrating than hitting the escape key by mistake and lose the data you had been writing for the past few minutes? We have made a small change in some of the windows, including the activity one, and Octopus will now ask you to confirm the cancelation as soon as you try to close a window in which you made changes. We listened to you, as this request had originated from our customers.
Merry Christmas and Happy New Year for 2016
The whole Octopus team wishes you a Merry Christmas and very good year in 2016 with health, happiness and success.
And we will be seeing you next year for our next top picks.
X
Thank you, your message has been sent.
Help us improve our articles