SHOW ALL CONTENT
Welcome to our Summer 2017 Newsletter
The warm weather is finally here and it is with our usual enthusiasm that we wish you a wonderful Summer and hope you make the best of your vacation.
We are already hard at work to deliver our Web version (Octopus 5) as soon as possible, but specifically with all the main Octopus functionalities that you know AND are already using.
As a result, a moratorium has been put in place to minimize the personalized development of the version 4.2, without altering its content and quality.
It is with renewed pleasure that we invite you to read our Summer 2017 newsletter.
Happy reading!
Octopus Users Day
2017 Edition
On May 29th we held our fourth annual Octopus Users Day.
We wish to thank all the customers who were present at this event! Again, it was a great success, thanks to all of you. To see some presentations and references related to this day, we invite you to read the article dedicated to the 2017 Octopus Users Day. (In French)
Octopus 5
Here is a sneak peak at what Octopus 5 will look like.
Octopus 5 will come with a mobile version that will work on all smartphone models. With Octopus 5, we are talking about mobility, user-friendliness and we are working to make its use simple and efficient. It is a work tool that we continue to develop to facilitate your everyday life.
Web Version
Click the image to enlarge.
Mobile Version
Click the image to enlarge.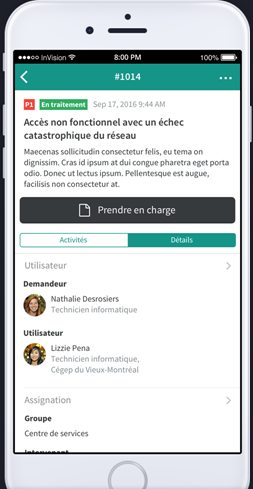 | | |
| --- | --- |
| | New features in Octopus 4.2 |
Version 4.2
The long awaited version 4.2 with its multiteam collaboration continues to being delivered this Spring. In addition to the collaboration, many other features facilitating daily use of Octopus deserve to be known.
Among others, the possibility to manage many levels of departments. Indeed, the Department field is no longer limited to 2 levels, but just like the Site field, it has now become multilevel to better represent your organizational structure.
From the Web Portal, if your organization uses tasks, users can now write additional information directly in the task instead of in the SR.
And just before we released version 4.2, we added the possibility to configure initial response targets as the resolution targets already exist in the options.
To discover in details all the new features since the last newsletter and more, visit the Release Notes page.
Multiteam Collaboration
We invite you to read the Multiteam collaboration - Reference document article and watch the Multiteam collaboration webinar video (in French only) to find out all there is to know about the multiteam collaboration.
Planned Request Management
If you use planned requests, you must discover our new chart of Planned efforts breakdown to better organize your preventive maintenances, updates, or anything you can anticipate and automate in advance.
In addition, to help you plan future maintenances, this chart will show what needs to be done now (open requests), what has been done (resolved requests) and what was planned versus was has been completed.
Refer to the Planned Request Management article, specifically the Planned efforts breakdown section to find out more on planned requests in Octopus.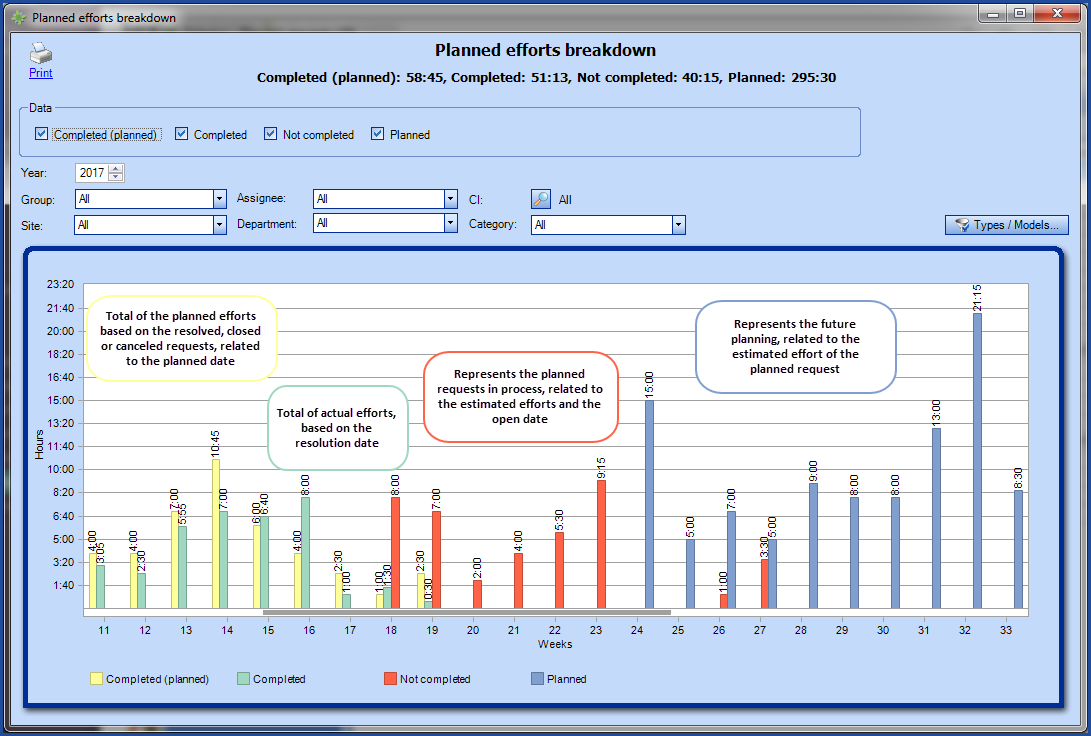 X
Thank you, your message has been sent.
Help us improve our articles