SHOW ALL CONTENT
Table of contents
Related Articles
Introduction
Creating ad-hoc reports with Octopus can be done in a few steps. You start by extracting the data you want in your report and then you select/customize a print format.
Step 1: Make an advanced search
Go to any Octopus module
Open the "advanced search" window by clicking the double down arrow icon (at the top right of the screen)
Many criteria can be used; consult the different tabs (General, Classification, Date, CI, Problem) if any

Example: To get a list of requests submitted by the HR department in February, click the Classification tab and select "HR" in the Department field. Then click the Date tab and select a range from Feb 1st to Feb 28th.

Click the Search button to show the records matching these criteria.
Step 2: Add Columns Based on the Report
There are many reasons for making reports and Octopus allows to add a great number of colums to gather the information you need. Here are some columns that could be useful.
Linked to Open Requests

S

tatus

Priority

Number

Subject

Affected IT Service

Opening Date

Due Date

Assignee

Last Assignment Date

Linked to the Last Activity

Number

Modification Date

Last Activity

Type

Created by

Reason for Suspension

Reason for Pending


Linked to Service Level Agreement(SLA)

SLA
Opening Date
Due Date
Custom Due Date
Resolution Date
Resolution Delay
Resolution Delay (Business Days)
Resolution Delay (Without Suspension)
Resolution Delay (Without Suspension, Business Days)
Resolved Within SLA

Linked to Service Level Agreement Response Time (SLA)

Response SLA
Response Date
Take Assignment Due Date
Response Delay (Business Days)
Response Delay
ATTENTION
: By default, response time are not activated. Please
contact us
for more information.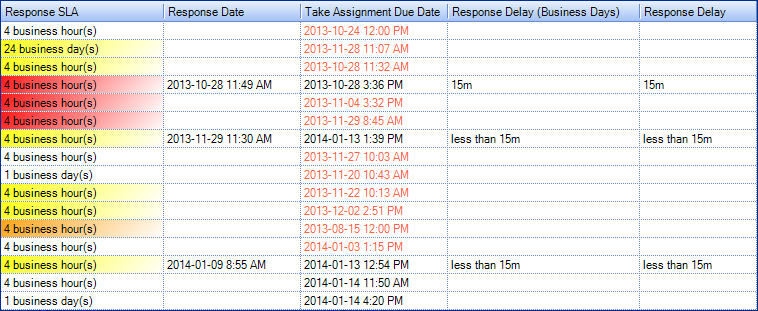 Linked to the User

Full Name
Employee Number
AD: Last Logon Date
Department
Language
Is Affected by an Open Incident
Supervisor
Costs Center
Delegates Approval To

Linked to CI

Type
Name
Criticality
Serial Number
Manufacturer / Model
Department
Is affected by an Open Incident

Step 3: Print or Export Data
You have 3 options:
Option 1: Use a Predefined Print Format
Once you have the list of records on screen, press CTRL+P to get to the "Print Format" window
Select the print format and press OK to print.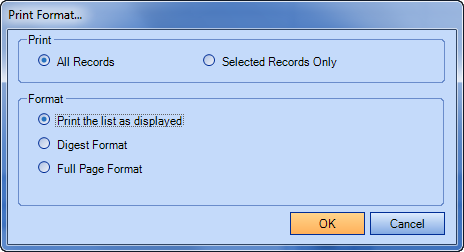 Option 2: Create a Custom Layout and Print
Once you have the result of your advanced search on your screen, customize the appearance:

You can add fields that are not shown by default. To do so, right-click on the header of any column and click Select a column. In the Select Column window, click the checkbox of the fields to add them to the results list
You can remove fields that you do not need by dragging them outside of the list area
You can drag & drop columns to move the columns
You can click on column header to change the sort order

When you are satisfied with the results, do CTRL+P and select the Print the list as displayed option
ATTENTION: you can revert back to the default layout at any point time. To do so, right-click on the header of any column and select Reset to default.
Option 3: Export to Excel
Arrange the layout as explained in Option 2 (above) and right click to open in Excel. See this article for more information.
Step 4: Save the Report as a List
It is possible to save your advanced search as well as the layout in a list that can be reused, see the List Customization wiki.
X
Thank you, your message has been sent.
Help us improve our articles