SHOW ALL CONTENT
Table of contents
Procedure Management within the CMDB
You can manage your procedures through CI type Procedure. This CI type is part of Octopus original installation, but the actual article suggests a more specific way to manage efficiently your procedure using the CMDB.
Step 1 : Planning a Procedure Structure
A good structure will ease procedure management and research. Examples below suggest types, but each customer has to define his. Establish a structure that is simple, and includes all types of procedures you may need to manage.
Identify which type of procedures you want to manage. Examples are :

Installations

Configurations

Architecture Designs

Application Designs

Database Designs

Processes

Templates

Others...

Identify attributes for each Procedure CI type. Examples are :

Description

Last Update

Owner (role)

Key Words

Others...
Step 2 : Configuration of "Procedure" CI type
From Tools \ Reference Data Management, open CI \ Types
If Procedure Type exists, select it. If not, right-click on Types and click Add"
Configuration Tab
Make sure that Is a document option is selected. If you want.
​​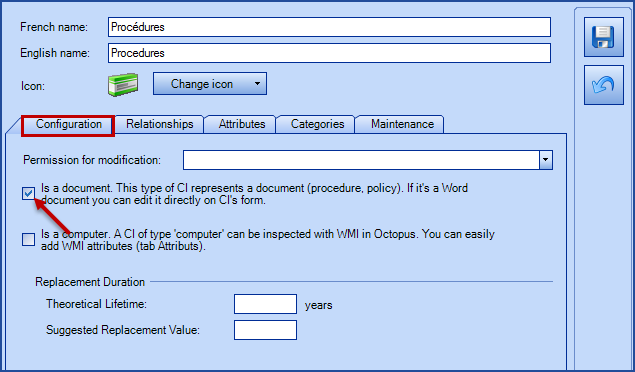 Relation Tab​
Identify relationships supported by this CI type. When you create a procedure, only supported relationships will be accessible.
​

Attributs Tab
Add attributes you identified in Step 1.
​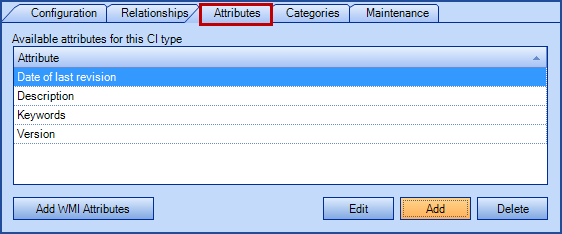 Categories Tab
Add categories you identified in Step 1.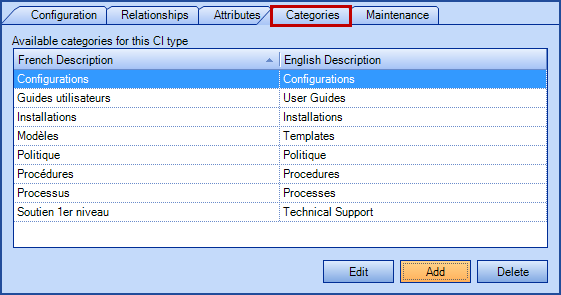 Step 3 : Creation of "Procedures" CI"
From Configurations Module, click on Create CI"

Enter information from drop down lists (if applicable), and give a name to the new CI (Note: the CI name must be unique)

Click OK"
​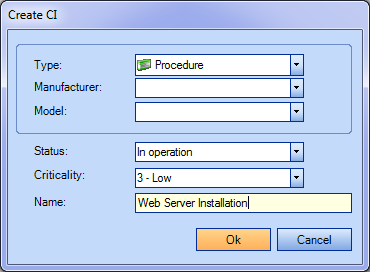 Complete missing information

Identify Main Contact, which could represent the procedure owner or the person responsible to update it (according to your internal context)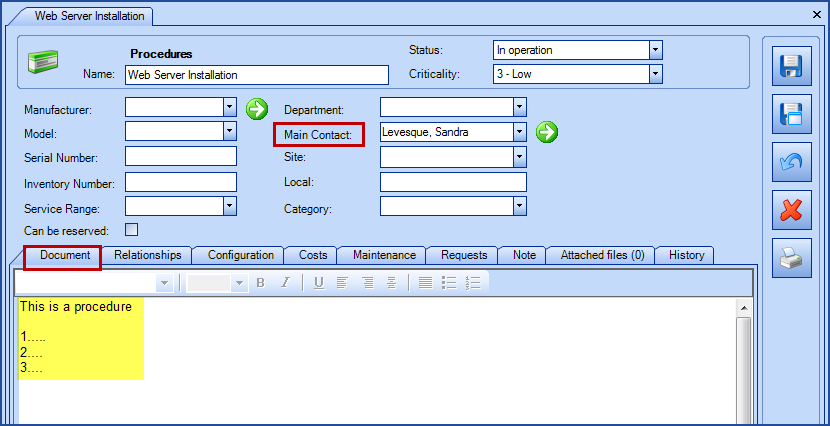 Relations Tab
To establish relationship(s)between the procedure and other CI :
Click on

Search for the CI to link and specify relationship type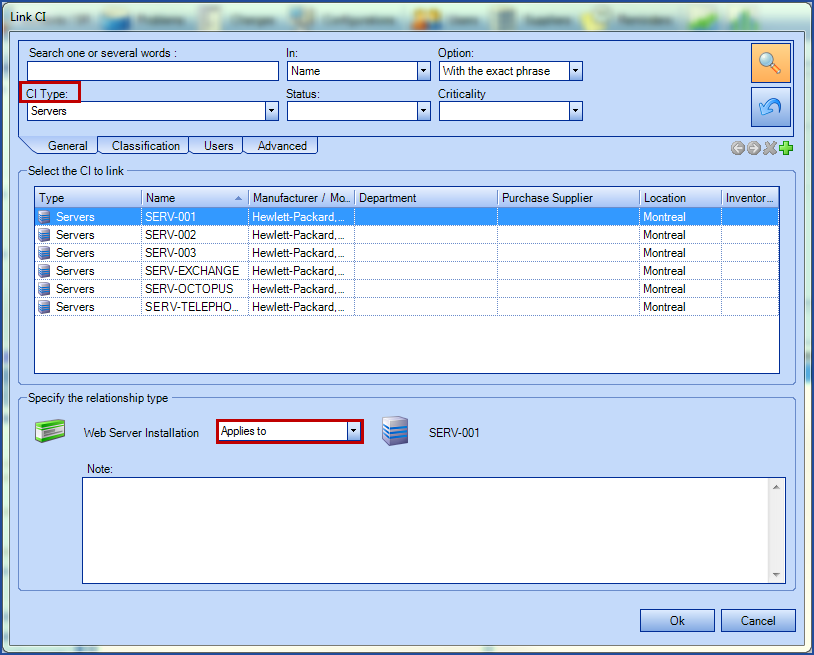 Click OK, and repeat to add a relationship to another CI, if required
Configuration Tab
Complete the attribute information for this procedure
Costs Tab
Enter the cost information, if this is pertinent for this procedure
Requests Tab
You will see all requests from any type created using this CI
Note Tab
Attached Files
You can add a file, a link to a file, or an attachment from the content of the clipboard
History Tab
Keeps the modification history done on this CI
Procedure Search
Select Configurations module and access to the Advanced Search. You can make a search based on multiple criteria.
An interesting search is by category. To do so, you have to select first the CI type in General Tab to be able to access category list for this CI type.


X
Thank you, your message has been sent.
Help us improve our articles